The tilting weir gate is having a flat skin plate reinforced with vertical and horizontal members fitted with a single torque tube across the invert. These gates are normally used to control the water level on irrigation canals, reservoirs, and drainage canals. These gates, which are sometimes very large, are designed for long life and low maintenance in difficult conditions, but also incorporate several "designed-in," installation, and field-adjustment features.
As name refers, gate leaf of the tilting weir gate is tilted towards downstream side of reservoir or canals which facilitates to operate gate with minimal opening force. 
Tilting weir gates can be manufactured in carbon steel, stainless steel, and duplex stainless steel depending on the corrosiveness of the media and desired length of service life. They have resilient sealing arrangement.
SERIES: A-315     Stainless steel construction, embedded in sidewalls
               A-316     Stainless Steel construction, face or head wall mounted
               A-335     Structural Steel construction, embedded in sidewalls
               A-336     Structural Steel construction, face or head wall mounted
               A-345     HDPE construction, embedded in sidewalls
               A-346     HDPE construction, face or head wall mounted
SERIES:A-915- Stainless Steel Bonneted Gates
SERIES:A-935- Structural Steel Bonneted Gates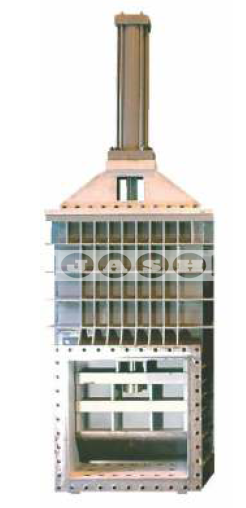 Opening Size range

1200×1200 mm to 3600X3600 mm Square, rectangular & higher sizes on request

Head Range

up to 150 m

Applicable Standards

As per Jash design

Mounting

Side wall embedded

Sealing system

Resilient Sealing System

Technical Features

Click to open

Drawing & Data Sheet

Click to open
SERIES: A-315/316/335/336/345/346  Tilting Weir Gate

Opening size range
Up to 9000 x 3000 mm, higher sizes on request
Head Range
Up to gate height
Applicable Standards
As per Jash design
Mounting
Side Wall Mounted / Face Wall Mounted
Sealing system
Resilient Sealing System
Technical Details
Click to open