Swing gates are flat gates pivoted at one end allowing rotation through 90 degrees / 180 degrees and are made up of skin plate supported by vertical and horizontal ribs. These gates used to protect against flooding or to dewater sections of a waterway for maintenance. They may be referred to as road closure gates because they most often seal a road cut in a levee. This type of gate, like miter gates, is designed for pressure in only one direction. Its simple construction and operation provide long service life with low maintenance.
Swing gates can be manufactured in carbon steel, stainless steel, and duplex stainless steel depending on the corrosiveness of the media and desired length of service life. Swing gates have resilient seals of neoprene or EPDM.
Smaller gates can be maneuvered by a few people manually and in rare cases, a manual worm gears are used to rotate the gates. Electric Motor operation and Cylinder actuation are both possible to operation these gates.
SERIES:A-915- Stainless Steel Bonneted Gates
SERIES:A-935- Structural Steel Bonneted Gates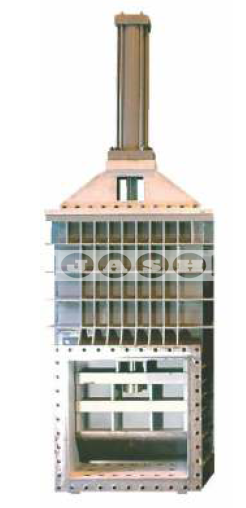 Opening Size range

1200×1200 mm to 3600X3600 mm Square, rectangular & higher sizes on request

Head Range

up to 150 m

Applicable Standards

As per Jash design

Mounting

Side wall embedded

Sealing system

Resilient Sealing System

Technical Features

Click to open

Drawing & Data Sheet

Click to open
SERIES: A-811 Stainless Steel Swing Gates

SERIES: A-831 Structural Steel Swing Gates

Opening size range
Up to 15240 x 4572 mm, higher sizes on request
Head Range
Up to gate height
Applicable Standards
As per Jash design
Mounting
Side Wall Embedded / Side Wall Mounted / Face Wall Mounted
Sealing system
Resilient Sealing System
Technical Details
Click to open