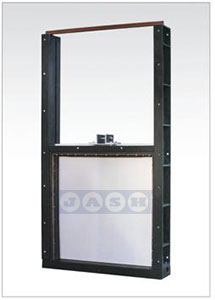 APPLICATION

These are vertically sliding gates used for isolation / control of water flowing in and out of a closed conduit / orifice for seating and / or unseating water head application.
Jash offers these gates completely made from Fiber Reinforced Plastic (FRP) without any carbon steel internal reinforcements eliminates two different co-efficient of thermal expansion of these different materials. These gates are good for corrosive environment / seawater application.

STANDARD

In compliance to JASH

MOUNTING

Wall mounted

SIZES (W X H)

From 100×100 mm (4"x4") up to 2000×2000 mm (80"x80").

SEALING

Plastic to rubber.

WATER HEAD

Up to 5 m (15') seating / unseating.

LEAKAGE PARAMETER

As per AWWA

ACTUATION

Manual, Electric.